to a rope may occur first.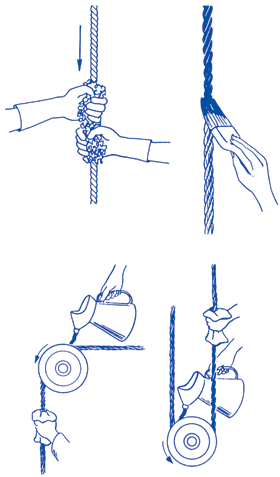 to lubricate the rope inside and out to maintain optimum rope fatigue properties.
Cut and Slip Procedure
On multiple layer drums, wire rope will wear out at the crossover points from one wrap to the next. At these crossover points, the rope is subjected to severe abrasion and crushing as it is pushed over the rope 'grooves' and rides across the crown of the layer beneath. The scrubbing of the rope, as this is happening, can easily be heard.
In order to extend the rope's working life, shortening of the rope at the drum anchoring point of approx. 1/3 of the drum circumference, moves the crossover point to a different section of the rope. Now, a rope section previously not subjected to scrubbing and crushing will take the workload.
Lubrication
During fabrication, ropes are lubricated; the kind and amount depending on the rope's size, type and use, if known. This in-process treatment will provide the finished rope with ample protection for a reasonable time if it is stored under proper conditions, and in the early stages of the rope's working life. It must be supplemented, however, at regular intervals.
Re-lubrication of a wire rope is not always a simple task. Apart from lubricant being a messy matter in itself, old lubricant, dirt and other particles may cover the outside of a rope to a point were any newly applied lubricant will not be allowed to penetrate the inside of a rope. In these cases it becomes necessary to either thoroughly clean the rope, or to use a high pressure lubrication device which forces new lubricant into the rope.
If the wire rope surface is clean, re-lubrication can also be made with spray cans of specially formulated lubricant which penetrates the inside of a rope.
The re-lubrication procedure and program is very much dependent on the length and size of a rope and on the equipment the rope is installed on. In any case, if a planned program of regular lubrication is not carried out, the rope will deteriorate more rapidly.
Remember that tests have shown that non-lubricated ropes will generate only about 1/3 of the bending cycles than ropes which are well lubicated. Python® ropes with a plastic coated core have the advantage that the inner rope is 'permanently lubricated'; the lubrication is 'sealed in'.