Python® 4-RUNNER
4-strand crush- and rotation resistant (ForcePac® & HiPac®)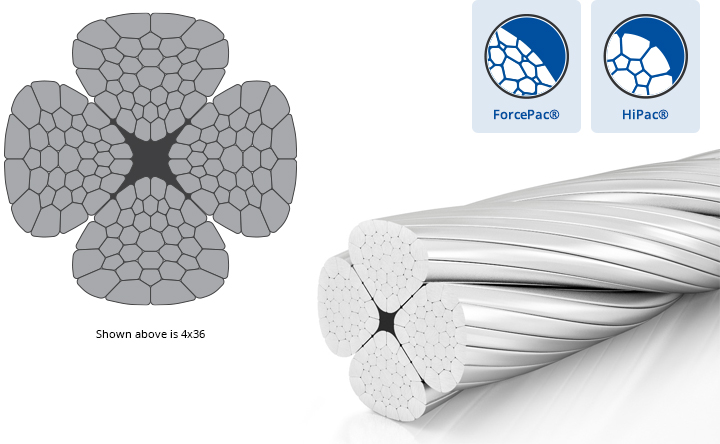 Main Applications
Python® 4-RUNNER was developed for ship cranes using bulk grabs to unload coal, iron ore, and other abrasive bulk loads. Moreover, it has shown it's superior feature of crush resistance when used with many other tough loads like logs which tends to easily crush normal wire rope.
Because of it's crush resistance it is also used on pile drivers and other heavy duty construction equipment which requires a crush resistant rope for multiple layer windings, even on smooth drums.
Rope Characteristics
The geometry of ropes which have 4 outer strands results in a somewhat rotation resistant characteristic. The main reason being is that the physical lever arm length from the center of each strand to the center of the rope becomes shorter the less outer strands a rope has; such shorter lever arms results is less torque. Other reasons why this rope is rotation resistant is the 'regular lay' construction coupled with a longer than normal rope lay length. On the other hand such a construction is relatively stiff; not only because of the 4-strands but also because of the longer lay length. This is somewhat of compromise between good crush resistance, attained rope strength, and acceptable flexibility.
It's rotation resistant characteristic is not all that great but is sufficient for most pile driver and ship crane applications.
Strength loss when used with a load bearing swivel is acceptable but we strongly recommend to use this rope with a positioning swivel only (not having roller- or ball bearings).
Breaking Strengths
Note: The maximum CAPACITY, WORKING LOAD LIMIT (WLL), or LINE PULL of the rope usually is 1/5 of the below stated values. For specific information consult the standards applicable to your rope application.
Python® 4-RUNNER
Minimum Breaking Strength
tons of 2000 lbs
Rope dia. inch
EIPS
EEIPS
lbs per ft
1/4
4.3
4.7
0.12
5/16
6.6
7.3
0.18
3/8
9.3
10.2
0.26
7/16
12.5
13.7
0.35
1/2
15.8
17.4
0.45
9/16
20.1
22.1
0.57
5/8
25.1
27.7
0.71
3/4
35.5
39.1
1.00
1
63.4
69.8
1.70
1-1/8
80.1
88.3
2.20
1-1/4
98.9
109.0
2.90
1-3/8
114.1
125.8
3.40
Python® 4-RUNNER
Minimum Breaking Strength kN
Rope dia. mm
1960 N/mm²
2160 N/mm²
kg per meter
6
33
36
0.15
7
45
50
0.21
8
59
65
0.27
9
74
82
0.34
10
92
101
0.42
11
111
122
0.51
12
124
137
0.59
13
148
163
0.70
14
171
188
0.81
15
197
217
0.93
16
223
246
1.10
17
253
279
1.20
18
282
311
1.30
19
316
348
1.50
20
349
385
1.70
21
386
425
1.80
22
422
465
2.00
23
462
510
2.20
24
503
554
2.40
25
546
602
2.60
26
590
650
2.80
27
636
701
3.00
28
682
752
3.20
29
733
808
3.60
30
784
868
4.00
31
838
923
4.30
32
891
982
4.50
33
948
1,045
4.80
34
1,005
1,108
5.10
35
1,015
1,119
5.40
36
1,025
1,129
5.70