Python® Compac® 35
Non-Rotating Wire Rope (HiPac®)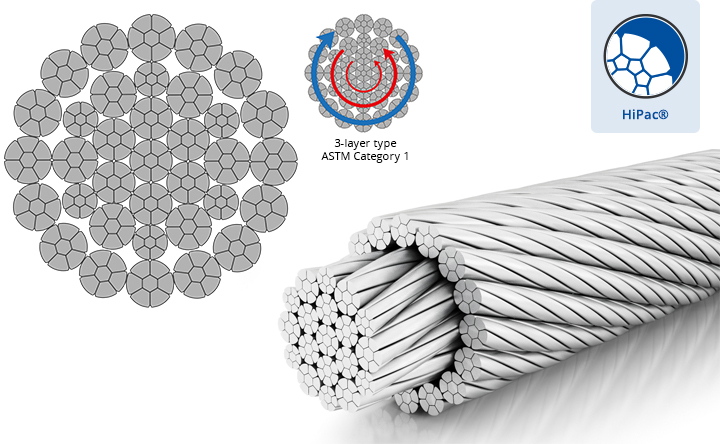 16 outer rope strands (19×7 has 12 only)
HiPac® design inner- and outer strands
Main Applications
Main- and auxiliary hoist line for european type mobile- and for all types of construction tower cranes which require a high strength rotation resistant rope construction. Excellent rotation resistant properties make this rope the preferred choice for all single- and multiple line reeving applications.
Rope Characteristics
This rope is constructed from 16 outer HiPac® strands over 12 inner HiPac® strands. The compacted Lang Lay strands reduce interlocking while spooling onto multiple layer drums as well as inter strand- and inter layer nicking. Improved abrasion resistance because of increased wire surface contacting the sheave.
This rope is suited to be used on tower cranes as well as european made mobile crane models. The large number of outer strands distribute the pressures introduced by sheaves and drum more evenly onto the core minimizing the danger of unexpected rope failures because of undetected core deterioration.
Aside from this safety issue PYTHON® COMPAC 35 satisfies the high-strength requirements of late model tower- and mobile cranes which can NOT be met with neither 19×7 nor 19×19 style ropes. Recommended to be used on grooved drums.
Some sizes of Python® Compac 35 are available in right- AND left hand lay to comply with OEM specifications (Krupp, Demag, Liebherr etc.)
Standard
ASTM 1023, Category 1.
Python®Compac 35 is classified as NON-ROTATING.
Breaking Strengths
Note: The maximum CAPACITY, WORKING LOAD LIMIT (WLL), or LINE PULL of the rope usually is 1/5 of the below stated values. For specific information consult the standards applicable to your rope application.
Python® Compac® 35
Minimum Breaking Strength
Rope dia. inch
Rope dia. mm
tons of 2000 lbs
kN
Weight per meter kg
Weight per ft lbs
8
7.0
62
0.31
0.21
5/16
7.0
62
0.31
2.06
9
8.8
78
0.39
0.26
3/8
9.8
87
0.43
0.29
10
11.0
98
0.48
0.32
11
13.3
118
0.58
0.39
7/16
13.3
118
0.58
0.39
12
15.9
141
0.69
0.46
1/2
18.2
162
0.77
0.52
13
18.2
162
0.81
0.55
14
21.6
192
0.94
0.63
9/16
22.0
196
0.96
0.65
15
25.0
222
1.08
0.73
16
27.9
248
1.26
0.85
5/8
27.7
246
1.26
0.85
17
31.9
284
1.41
0.95
18
35.1
312
1.56
1.05
19
40.2
358
1.74
1.17
3/4
40.2
358
1.74
1.17
20
45.5
405
1.97
1.32
21
48.2
429
2.14
1.44
22
55.1
490
2.37
1.59
7/8
55.1
490
2.40
1.61
23
62.5
556
2.62
1.76
24
65.3
581
2.78
1.87
25
70.5
627
3.06
2.06
1
73.3
652
3.19
2.14
26
75.0
667
3.29
2.21
27
80.5
716
3.53
2.37
28
88.8
790
3.84
2.58
1-1/8
90.8
808
3.96
2.66
29
92.3
821
4.05
2.72
30
100.9
898
4.38
2.94
31
106.8
950
4.69
3.15
1-1/4
112.0
996
4.91
3.30
32
112.5
1,001
4.93
3.31
33
118.4
1,053
5.27
3.54
34
126.7
1,127
5.70
3.83
35
133.8
1,190
6.06
4.07
1-3/8
133.8
1,190
6.06
4.07
36
142.2
1,265
6.42
4.31
38
158.7
1,412
7.18
4.83
1-1/2
158.4
1,409
7.18
4.83
40
175.5
1,561
7.93
5.33
1-5/8
184.0
1,637
8.34
5.60
42
182.5
1,624
8.70
5.85
44
192.0
1,708
9.48
6.37
Python® Compac® 35
Minimum Breaking Strength
Rope dia. inch
Rope dia. mm
tons of 2000 lbs
kN
Weight per meter kg
Weight per ft lbs
1-3/4
211
1,881
9.36
6.4
46
230
2,048
10.4
7.0
1-7/8
249
2,214
11.3
7.6
48
251
2,231
11.4
7.7
50
268
2,382
12.3
8.3
2
272
2,421
12.5
8.4
52
286
2,545
13.2
8.9
54
308
2,740
14.2
9.5
2-1/8
308
2,740
14.2
9.5
56
335
2,979
15.5
10.4
2-1/4
348
3,096
16.0
10.8
58
359
3,196
16.6
11.2
60
387
3,446
17.7
11.9
2-3/8
389
3,465
17.8
12.0
62
412
3,662
18.8
12.6
2-1/2
432
3,840
19.8
13.3
64
437
3,889
20.0
13.4
66
467
4,157
21.4
14.4
2-5/8
482
4,286
21.9
14.7
68
494
4,398
22.6
15.2
2-3/4
521
4,637
24.1
16.2
70
522
4,637
24.1
16.2
72
550
4,894
25.4
17.1
2-7/8
565
5,030
26.1
17.5
74
584
5,193
27.0
18.1
76
615
5,472
28.4
19.1
3
617
5,486
28.5
19.1
78
648
5,762
29.9
20.1
3-1/8
664
5,906
30.7
20.6
80
677
6,020
31.3
21.0
82
719
6,399
32.9
22.1
3-1/4
724
6,442
33.1
22.3
84
761
6,768
34.8
23.4
3-3/8
771
6,859
35.6
23.9
86
783
6,967
36.2
24.3
88
820
7,295
37.9
25.5
3-1/2
839
7,462
38.8
26.0
90
864
7,687
39.9
26.8
92
896
7,970
41.4
27.8
3-5/8
896
7,970
41.4
27.8
94
938
8,347
43.4
29.2
3-3/4
690
8,537
44.4
29.8
96
986
8,775
45.6
30.6
98
1,019
9,063
47.1
31.7
3-7/8
1,023
9,103
47.3
31.8
100
1,063
9,454
49.1
33.0

Available up to 4-3/8" (112 mm)