Python® Power-9
High Strength Hoisting (ForcePac®, DoPar®)
Aka: Python® HS9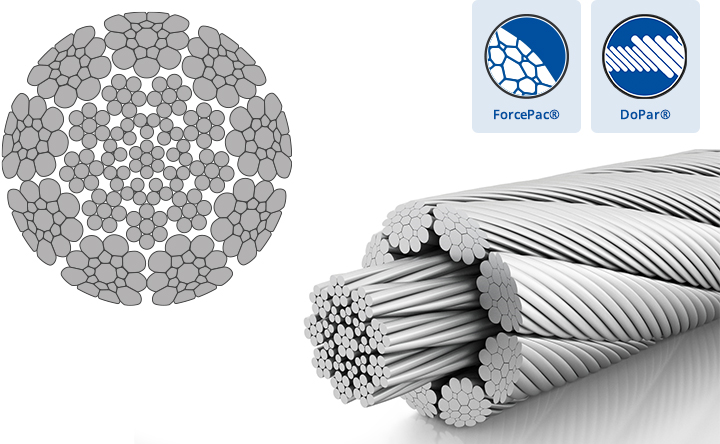 9-strand fatigue resistant high strength construction
Force Pac® design to increase strength
Flat outer wires for optimum sheave contact
Inner strands are laid parallel to the outer strands to avoid any strand cross-overs and premature wire nicking
Main Applications
Super high strength yet super flexible overhead crane wire rope. Used as original equipment rope and for crane capacity upgrades. Also used as high strength engineered assembly cable for tension applications. Power9 has little to no initial constructional stretch.
Sizes 11mm and 14 mm in left lay are original equipment ropes for some DEMAG crane types.
Rope Characteristics
Power9 is compacted to enhance the abrasion characteristic and to reduce sheave- and drum wear. Type Power-9V in combination with EEIPS (2160 N/mm2) wire tensile grades increases rope strength of up to about 50% over regular strength 6-strand types.
Power-9 is constructed from a total of up to 358 single wires compared to 265 single wires in traditional 6×36 wire rope. This results in a super strong yet super flexible rope.
Although Power-9 is our most successful high strength rope construction there are precautions we must address before you select this rope. One is that the direction of lay which must correspond to drum grooving, the other is that large fleet angles may cause high strands or core protrusion because the rope will 'roll' rather than 'glide' into the sheave groove. Any introduction of torque into (any) wire rope will cause structural damages.
| 6-strand | | 9-strand |
| --- | --- | --- |
| | | |
The Python® Power-9 construction provides an increase in contact points between rope and sheave. Less wear on the rope and of your equipment.
Standard
EN 10264, 12385 where applicable
Python® Power-9 is NOT rotation resistant or non-rotating.
Breaking Strengths
Note: The maximum CAPACITY, WORKING LOAD LIMIT (WLL), or LINE PULL of the rope usually is 1/5 of the below stated values. For specific information consult the standards applicable to your rope application.
Python® Power-9
Minimum Strength tons of 2,000 lbs
Rope dia.
inch
EIPS
EEIPS
Weight per foot
lbs*
1/2
17.6
18.4
0.52
9/16
22.3
23.7
0.71
5/8
27.8
30.7
0.91
3/4
39.2
43.2
1.29
7/8
55.2
60.8
1.70
1
72.9
76.4
2.21
1-1/8
93.1
97.6
2.75
1-1/4
107.8
118.8
3.43

* Weights for PYTHON Power-9 V: add approx. 10%
Python® Power-9
Minimum Strength in kN
Rope dia.
mm
1960 N/mm²
2160 N/mm²
Weight per meter
kg*
12
139
153
0.77
13
163
180
0.90
14
189
209
1.04
15
217
240
1.20
16
247
273
1.36
17
279
308
1.54
18
313
345
1.73
19
349
384
1.92
20
387
426
2.13
21
427
471
2.37
22
468
515
2.51
23
512
564
2.75
24
557
613
2.98
25
605
667
3.24
26
653
720
3.50
27
705
777
3.78
28
758
835
4.06
29
814
897
4.36
30
870
958
4.66
31
930
1,024
4.98
32
990
1,009
5.30

* Weights for PYTHON Power-9 V: add approx. 10%
Strength Comparison