Python® Construct-6
Crush Resistant Boom Hoist Rope (Force Pac® swage compacted)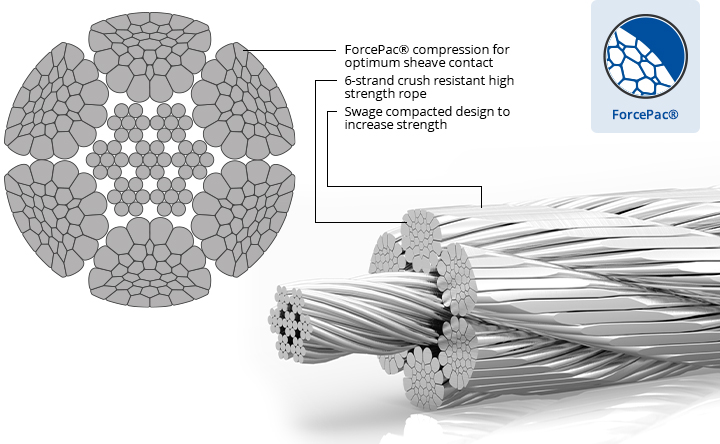 Main Applications
High strength standard 6-strand rope for applications which require a crush resistant rope to be used on multiple layer winding systems; e.g. boom hoist on lattice boom mobile- and tower cranes. This rope has also shown remarkable performance gains as main hoist rope on port container cranes and on some overhead crane applications.
Rope Characteristics
Python® Construct-6 is a ForcePac® rope which is constructed from specialty made engineered and sized 6-strand wire rope. The basic wire rope is already manufactured with the intention of being compacted into the finished product. The degree of ForcePac® is carefully selected to ensure the best compromise between crush- and fatigue resistance. The strength increase compared to standard 6-strand ropes varies between about plus 10% to 35% depending on rope diameter.
Python® Construct-6 is available as a 25 wire (6 F-V) or 36 wire (6WS-V) construction, in left- and right lay, bright or galvanized. Because of the compacting process most of the rope's initial stretch (constructional stretch) has already been removed.
Standard
EN 12385 where applicable.
Python® Construct-6 is NOT rotation resistant or non-rotating.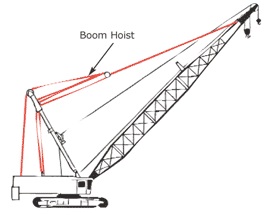 Breaking Strengths
Note: The maximum CAPACITY, WORKING LOAD LIMIT (WLL), or LINE PULL of the rope usually is 1/5 of the below stated values. For specific information consult the standards applicable to your rope application.
Imperial Python® Construct-6
Rope dia. inch
Nominal Strength in tons of 2,000 lbs – EIPS
Weight per foot lbs
1/4
4.5
0.15
5/16
7.5
0.26
3/8
10.5
0.34
7/16
13.0
0.40
1/2
17.5
0.59
9/16
20.1
0.68
5/8
25.9
0.87
3/4
36.5
1.21
7/8
48.5
1.55
1
62.6
2.03
1-1/8
79.6
2.37
1-1/4
94.8
3.15
1-3/8
113.2
3.84
Python® Construct-6
Rope dia. mm
Minimum Strength 1960 N/mm²
Weight per meter kg
kN
tons of 2,000 lbs
6.5
40
4.5
0.25
7
43
4.8
0.24
8
67
7.5
0.38
9
82
9.2
0.46
10
98
11.0
0.55
11
116
13.0
0.60
12
136
15.3
0.76
13
156
17.5
0.88
14
179
20.1
1.01
15
203
22.8
1.14
16
230
25.9
1.29
17
257
28.9
1.44
18
283
31.8
1.59
19
325
36.5
1.80
20
343
38.6
1.93
21
387
43.5
2.12
22
432
48.6
2.30
23
457
51.4
2.57
24
481
54.1
2.83
25
521
58.6
3.01
26
561
63.1
3.18
27
635
71.4
3.35
28
708
79.6
3.52
29
723
81.3
3.82
30
737
82.8
4.11
31
790
88.8
4.39
32
843
94.8
4.69
33
898
100.9
5.03
34
953
107.1
5.36
35
1,007
113.2
5.71
36
1,062
119.4
6.06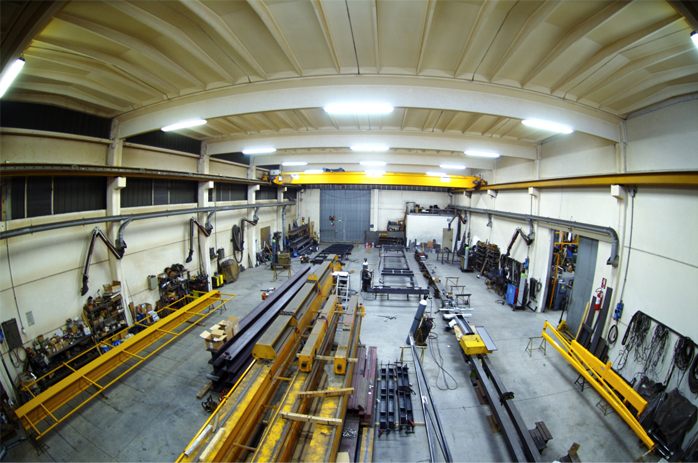 Overhead Crane Applications