Python® DYNAMIQ
Non-Rotating Wire Rope (HiPac®)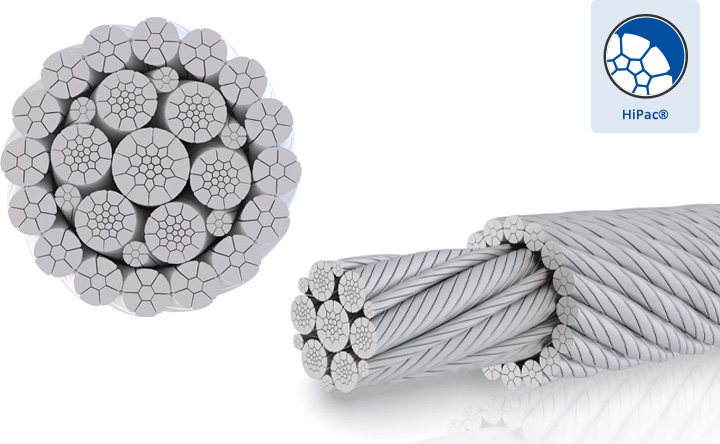 Main Applications
HiPac compacted, flexible wire rope with higher breaking loads than standard 35×7. The high lateral stability makes it perfectly suited for multi layer spooling. Due to the sophisticated construction, Dynamiq also features peak nonrotational properties. Dynamiq is the best choice as the main and auxiliary hoist line for Crawler cranes, and all types of tower cranes which require a high strength non-rotating rope construction. Superior non-rotating properties make this rope a great choice for all single and multiple line reeving applications.
Rope Characteristics
Construction

16 x K7-EPIWRC

Load Bearing Wires In Outer Strands

112

Manufacturing Standard

ASTM 1023-19, exceeds Table 32

Rope Category # (ISO 4309)

23-2

Available Lay Type

Lang Lay

Number Of Outer Strands

16

Diameter Tolerance

+2% / +4%

Avg. Fill Factor

0.70

Rotation Resistance

ISO 21669 Class A
ASTM 1023 Category 1

Recommended Max Fleet Angle

2°

Recommended D/d

20:1

Multi-Layer Drum

Yes
Breaking Strengths
Note: The maximum CAPACITY, WORKING LOAD LIMIT (WLL), or LINE PULL of the rope usually is 1/5 of the below stated values. For specific information consult the standards applicable to your rope application.
Python® DYNAMIQ
Minimum Breaking Strength
Rope dia. inch
Rope dia. mm
tons of 2000 lbs
kN
Weight per meter kg
Weight per ft lbs
5/16
7.31
65
0.31
0.21
8
7.31
65
0.31
0.21
9
9.22
82
0.39
0.26
3/8
10.34
92
0.39
0.29
10
11.47
102
0.48
0.32
11
13.83
123
0.58
0.39
7/16
13.83
123
0.58
0.39
12
16.52
147
0.69
0.46
1/2
18.55
165
0.77
0.52
13
19.33
172
0.81
0.55
14
22.48
200
0.94
0.63
9/16
23.27
207
0.96
0.65
15
25.85
230
1.08
0.73
16
28.78
256
1.26
0.85
5/8
29.45
262
1.26
0.85
17
33.50
298
1.41
0.95
18
37.32
332
1.56
1.05
19
41.70
371
1.74
1.17
3/4
41.70
371
1.74
1.17
20
46.20
411
1.97
1.32
21
50.92
453
2.14
1.44
22
56.32
501
2.37
1.59
7/8
56.32
501
2.4
1.61
23
63.74
567
2.62
1.76
24
66.66
593
2.78
1.87
25
72.39
644
3.06
2.06
1
74.75
665
3.19
2.14
26
78.35
697
3.29
2.21
27
84.08
748
3.53
2.37
28
91.16
811
3.84
2.58
1-1/8
94.42
840
3.96
2.66
29
97.01
863
4.05
2.72
30
103.87
924
4.38
2.94
31
110.95
987
4.69
3.15
1-1/4
116.34
1035
4.91
3.3
32
118.03
1050
4.93
3.31
33
125.67
1118
5.27
3.54
34
133.43
1187
5.7
3.83
35
141.41
1258
6.06
4.07
1-3/8
141.41
1258
6.06
4.07
36
149.51
1330
6.42
4.31
38
166.59
1482
7.18
4.83
1-1/2
166.59
1482
7.18
4.83
40
183.23
1630
7.93
5.33
1-5/8
194.24
1728
5.6
3.77
42
201.21
1790
5.85
3.93
44
218.30
1942
9.48
6.38
1-3/4
222.01
1975
9.577
6.44
46
239.66
2132
10.4
7.00
1-7/8
257.08
2287
11.312
7.61
48
262.93
2339
11.4
7.67
Common Applications:

Hoist & Aux Rope

Hoist Rope